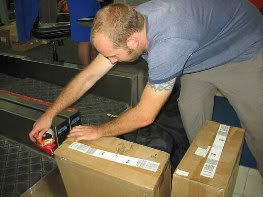 There are many NGOs that toil in relative obscurity for years in the most remote and politically inhospitable locations on the planet.
Thirst-Aid
is once such organization. I
profiled their efforts
last week as the disaster was unfolding, and received an update today from Bree Ervin:
The Thirst-Aid team has brought in 4 million Aqua Tabs for emergency water purification. They are also using their filters, and filters donated by Global Medics to create reservoirs of potable water for cyclone victims to use. "We're working on getting cholera medicine into the country now. Curt Bradner is planning to be in Bangkok Wednesday and then we will go back into Myanmar together, hopefully with enough medicine to treat the 100,000 people we estimate to be sick right now." Cathy Bradner is in Bangkok working with other NGOs to organize the relief effort and make sure that the right supplies are getting in.

"We have one team member in Myanmar at all times; making sure supplies are getting into the right hands. We're keeping one person in Bangkok to keep up communication with other NGOs working to bring aid in. Our third member is in constant motion between our filter factories, Yangon, Bangkok, and meetings with other organizations. Right now we're taking turns so we don't burn out on any one role."

..."When Thirst-Aid goes into a country we don't swoop in with a big group of foreigners. Up until this year it was just Curt and Cathy. This year we added Bryan Berenguer (pictured) and he has been our Myanmar Field Director". What thirst-Aid does next is hire locals to build ceramic water filter factories, develop culturally appropriate safe water education materials, and put together local distribution networks. It is this organizational model that is allowing them so much success in Myanmar while so many others are struggling.

Bree points out that, "Only a few locals are being allowed into the hardest hit areas, no foreigners at all. That's stopping a lot of organizations from responding in those areas, but we have the local contacts, we're getting in. And we're helping to get supplies from other groups to those areas too. We're all having to come together and really pool our resources for this one." ...
Thirst-Aid
has issued two press releases in the past 24 hours detailing the scope of their efforts. Since the press releases aren't yet available on their website, I'll add them as a download feature here a bit later today.
The bottom line is that there
are
success stories that will emerge from Myanmar. As I
noted before
, the agencies that have been working in the country and established relationships are having the easiest time accessing the country and getting assistance where it's needed.
Update:
Check out this
Associated Press story
about Thirst-Aid!